Oct 27, 2022
Legal information - SoundID Reference Measurement Microphone
User Manual for SoundID Reference Measurement Microphone

DISCLAIMER
SIA "Sonarworks" ("Sonarworks") makes no representations or warranties with respect to these User Instructions ("manual"), and, to the maximum extent permitted by law, expressly limits its liability for breach of any warranty that may be implied to the replacement of this manual with another. In addition, Sonarworks reserves the right to revise this manual at any time without incurring an obligation to notify any person of the revision.
The information provided in this manual contains general descriptions and/or technical characteristics of the performance of the product. This manual is not intended as a substitute for and is not to be used for determining the suitability or reliability of the product for specific user applications. It is the duty of any such user or integrator to perform the appropriate and complete risk analysis, evaluation and testing of the product with respect to the relevant specific application or use thereof. Neither Sonarworks nor any of its affiliates or subsidiaries shall be responsible or liable for misuse of the information that is contained herein. Please notify us if you have any suggestions for improvements or amendments, or if you have found any errors in this manual.
All pertinent state, regional, and local safety regulations must be observed when installing and using this product.
Failure to observe this information can result in injury or equipment damage.
Copyright © 2021 by Sonarworks
All rights reserved. No part of this publication may be reproduced, distributed, or transmitted in any form or by any means, including photocopying, recording, or other electronic or mechanical methods, without the prior written permission of the publisher. For permission requests, please contact the publisher, addressed "Attention: Permissions Coordinator," using the information below.
Company: SIA "Sonarworks"
Address: Šmerļa iela 3, Riga, LV-1006, Latvia
1.1 Explanation of Safety Warnings

1.2. Retaining Instructions
Read and understand this manual and its safety instructions before using this product.
Follow all the instructions provided in this manual. This will avoid fire, explosions, electric shocks, or other hazards that may result in damage to property and/or severe or fatal injuries.
The product shall only be used by persons who have fully read and understand the contents of this manual.
Ensure that each person who uses the product has read this manual and follows the instructions and warnings provided.
Sonarworks shall not be liable for cases of material damage or personal injury caused by incorrect handling or non-compliance with the instructions contained in this manual. In such cases, the warranty will be voided.
1.3 Obtaining Documentation and Information
1.3.1 Online
The latest version of the documentation is available here: http://sonarworks.com/onlineguide
1.3.2 Supplementary information
Besides this manual, additional documentation is available on the Sonarworks website under:
1.3.3 Ordering documentation
To receive documentation, user instructions, and technical information, please contact our support team in our Help Center.
1.3.4 Other languages
This is the English manual. Manuals in other languages are available upon request.
1.3.5 Documentation feedback
If you are reading this product documentation online, any comments can be submitted in the Help Center.
1.3.6 Support and service
For information about special tools and materials, and for service-related questions, please contact our Help Center.
2. Description of the Product
2.1 Intended Use and Reasonably Foreseeable Misuse
The SoundID Reference microphone is intended to be used as a tool for making high-precision measurements of acoustic sound pressure and acoustic pressure changes within the audible frequency range of 20Hz to 20kHz.
The SoundID Reference microphone shall be used with the following software and components only:
SoundID product software packages
Sonarworks-provided microphone calibration files
Audio interfaces capable of +48V Phantom Power supply at its inputs
Balanced XLR cables as the connection medium between the SoundID Reference microphone and the audio interface of choice
Third-party acoustic measurement software with Sonarworks-provided individual mic calibration profiles
2.2 Technical Data
| | |
| --- | --- |
| Parameter | Unit |
| Device name | SoundID Reference |
| Type | Electret condenser |
| Weight | 147g |
| Chemical composition | Aluminium chassis |
| Transducer type | Condenser |
| Frequency response | 20Hz to 20kHz |
| Polar pattern | Omni-directional |
| Output impedance | 200Ω |
| Open circuit sensitivity | (1Pa=94dB SPL): 14mV |
| Power requirements | 9 to 52V phantom |
| Maximum sound level | 128dB |
| Signal-to-noise ratio | Over 70dB |
Frequency Response
Figure 1

2.3 Product Compliance
This product complies with all relevant European Union Directives and the following relevant product safety standards:
EN 55032:2015 + AC:2017 + A11:2020 (Electromagnetic compatibility of multimedia equipment - Emission Requirements (CISPR 32:2015 + COR1:2016))
EN 55035:2017 + AC:2020 (Electromagnetic compatibility of multimedia equipment - Immunity requirements (CISPR 35:2016, modified))
While using the SoundID Reference microphone, magnetic fields generated by other electronic devices may induce non-destructive noise on the microphone capsule. The distortion introduced by electromagnetic fields is not damaging to the SoundIDReference microphone or the accuracy of the intended acoustic measurement: microphone performance deviations and performance thresholds of the SoundID Reference are accounted for when used with SoundID software.
2.4 Product Elements
2.4.1 SoundID Reference Measurement Microphone
Figure 2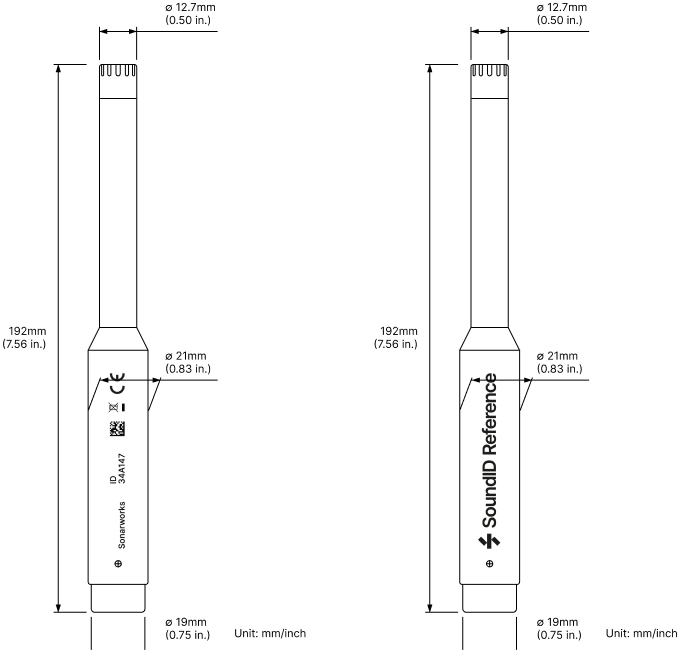 The serial number associated with the microphone is directly printed on each individual microphone as seen in Figure2 (ID number). The serial number is required to access the individual calibration profile for the microphone either from Sonarworks Measure software or the Sonarworks Downloads page. For more information on the usability and access to individual microphone calibration profiles, see the associated FAQ article.
2.4.2 Microphone clip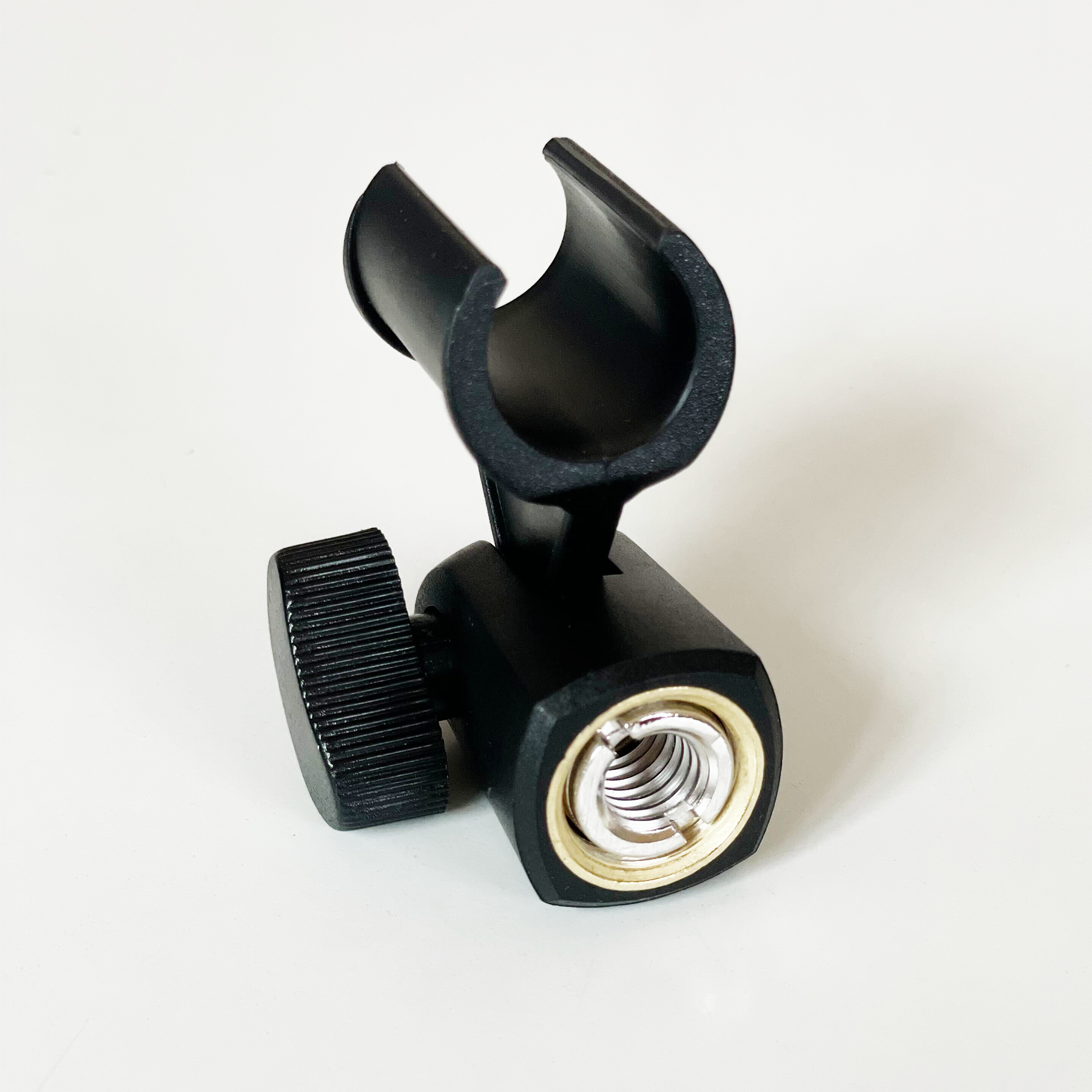 A microphone clip for a Ø21~26mm microphone, with a 5/8" screw-on thread. Compatible with Sonarworks microphones:
SoundID Reference Measurement Microphone
Sonarworks XREF 20 measurement microphone
2.5 Operating Panels
The interface of the SoundID Reference microphone consists of a single male XLR connector, to be used as a point of connection between the microphone and a peripheral audio interface. The SoundID Reference microphone XLR connector is intended to be connected to a balanced XLR female connector only.
Figure 3 - SoundID Reference microphone Pinout Diagram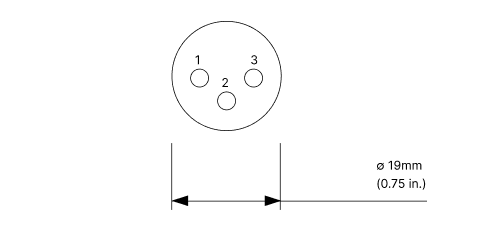 SoundID Reference microphone Pin Description:
Ground/shield
Positive/hot
Negative/cold
Safety Instructions

2.6 How to Use the Product Safely
2.6.1 Safety information for vulnerable people
This device is not suitable for use by children. If children use the device, make sure that they use it properly.
2.6.2 Safety information related to the intended use
Do not use the device for anything other than its intended use.
2.6.3 Installation safety information
Make sure that +48V phantom power is turned off while XLR connections are made so as to protect the internal electronic components of the device from electric surge damage.
2.6.4 Safety information regarding the use of the product
Do not use damaged power cords. Unsecured connections can cause electric shock or fire.
Do not touch the device, power cords, plugs, or the electric socket with wet hands. Doing so may cause electric shock.
Do not pull the power cord excessively when disconnecting it. Doing so may cause electric shock or fire.
Do not attempt to disassemble the chassis of the device. If parts of the chassis are loose, contact the manufacturer immediately.
Do not manually short the XLR pins. Doing so may cause fire or serious injury.
Use only a charger specifically designed for your device. Incompatible chargers can cause serious injuries or damage to your device. Sonarworks shall not be responsible for the user's safety when using accessories or supplies that are not approved by Sonarworks.
Do not drop or cause excessive impact to the device. This may damage your device or battery, cause the device to malfunction, or shorten its lifespan. This may also cause overheating, combustion, fire, or other hazards.
Never place the device on or in heating devices, such as microwave ovens, stoves, or radiators. The device may explode when overheated.
Avoid exposing the device to high external pressure, which can lead to an internal short circuit and overheating.
Avoid exposing your device to very cold or very hot temperatures. Extreme temperatures can damage the device, and reduce the charging capacity and life of your device.
Do not store your device near or in heaters, microwaves, hot cooking equipment, or high-pressure containers. Your device may overheat and cause a fire.
Do not use or store your device in areas with high concentrations of dust or airborne materials. Dust or foreign materials can cause your device to malfunction, and may result in fire or electric shock.
Do not expose the device to heavy smoke or fumes. Doing so may damage the outside of the device or cause it to malfunction.
If you use a hearing aid, contact the manufacturer for information about radio interference. The radio frequency emitted by your device may interfere with some hearing aids. Before using your device, contact the manufacturer to determine whether or not your hearing aid will be affected by radio frequencies emitted by the device.
Do not store or carry flammable liquids, gases, or explosive materials in the same compartment as the device, its parts, or accessories.
If any part of the device is broken, smokes, or emits a burning odor, stop using the device immediately.
Keep your device dry. Humidity and liquids may damage the parts or electronic circuits in your device. Do not turn on your device if it is wet. If your device is already on, turn it off, then, dry the device with a towel and take it to a service center.
Store your device only on flat surfaces. If your device falls, it may be damaged.
Do not store your device in very hot areas, such as inside a car in the summertime. Do not expose your device to direct sunlight for extended periods of time. Doing so may cause the device to malfunction, resulting in damage to the device.
Do not store your device with metal objects, such as coins, keys, and necklaces. Your device may be scratched or may malfunction.
Do not paint or put stickers on your device. Paint and stickers can clog moving parts and prevent proper operation of the device.
Do not drop your device or cause impacts to your device. Your device may be damaged or may malfunction. If bent or deformed, your device may be damaged, or parts may malfunction.
If you transport the device to another location, take care to ensure that it is properly secured and cannot be damaged by being dropped or by impacts on the equipment.
2.6.5 Maintenance safety information
Wipe your device or charger with a towel or an eraser.
Do not use chemicals or detergents. Doing so may corrode the outside of the device or may result in electric shock or fire.
Prevent the device from being exposed to dust, sweat, ink, oil, and chemical products, such as cosmetics, antibacterial spray, hand cleaner, detergent, and insecticides. The exterior and interior parts of the device may be damaged or it could result in poor performance. If your device is exposed to any of the previously mentioned substances, use a lint-free, soft cloth to clean it.
2.6.6 Service and repair safety information
Do not attempt to take apart, open, modify, disassemble, or repair your device. If your device needs servicing, contact Sonarworks. Any evidence of any attempt to open and/or modify the device, will void the warranty.
2.6.7 Safe disposal
Handle and dispose of the device and charger with care.
Never dispose of the battery or device in a fire. Never place the battery or device on or in heating devices, such as microwave ovens, stoves, or radiators. The device may explode when overheated. Follow all local regulations when disposing of used batteries or devices.
Never crush, bend, deform, or puncture the device.
Avoid exposing the device to high external pressure, which can lead to an internal short circuit and overheating.
2.7 Graphical Symbols
2.7.1 Explanation of safety information on the packaging and product
| | |
| --- | --- |
| Symbol | Meaning |
| | The CE Marking on the product is the manufacturer's declaration that the product complies with theessential requirementsof the relevant European health, safety and environmental protection legislation. The number behind the CE mark is the identification number of the notified body where the conformity assessment procedure is applied. |
| | The symbol on the product, the accessories or packaging indicates that this device must not be treated as unsorted municipal waste but must be collected separately. |
DISPOSAL

Dispose of the device via a collection point for the recycling of waste electrical and electronic equipment if you live within the EU and in other European countries that operate separate collection systems for waste electrical and electronic equipment. By disposing of the device in the proper manner, you help to avoid possible hazards for the environment and public health that could otherwise be caused by improper treatment of waste equipment. The recycling of materials contributes to the conservation of natural resources. Therefore, do not dispose of your old electrical and electronic equipment with unsorted municipal waste.
Household users should contact either the retailer where they purchased this product, or their local government office, for details of where and how they can take these items for environmentally safe recycling. Business users should contact their supplier and check the terms and conditions of the purchase contract. This product and its electronic accessories should not be mixed with other commercial waste for disposal.